Katy Air Conditioner Repair You Can Trust
We pride ourselves on our excellent A/C Service and knowledgeable Technicians. Living in Katy, you know that we can get some extremely hot summers and some freezing cold winters. Your AC or HVAC unit should always be ready, in great working condition, to help combat these temperatures. To ensure that your AC or HVAC don't malfunction when you need them most, have My Local HVAC perform regular maintenance checks. Our qualified technicians cannot only provide you with annual or semi-annual maintenance checks, but they can also provide anything from HVAC repair,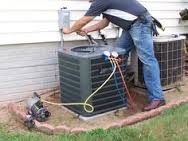 air conditioner repair to air conditioning service. Whether the service is for a residential or commercial property, our HVAC contractors are capable of working on any unit. Whenever you need us, we are always here to help, we respond to our customers' calls swiftly and send out one of our professional and very skillful technicians to carry out the service you need. We do everything we can to ensure that the job is done as fast as possible but also done efficiently and to the highest of standards. We keep our prices at a fair rate and promise not to sell you anything you don't need.
Routine AC and Heating Maintenance
Having regularly scheduled maintenance checks on your AC or HVAC unit will prolong its life and prevent big repair jobs or the need for a complete replacement. Maintenance checks should be carried out on a regular basis to ensure there are no problems going on with the components inside. We offer annual maintenance checks, so get in touch with us today if you feel your unit is in need of some upkeep. Without regular checks, your air conditioning unit could be using up a lot more energy than it should be, resulting in you needing to pay bigger bills. It's best to get a maintenance check well in advance of the seasons you use your unit most – have a maintenance check in the spring and a maintenance check in the fall so your HVAC unit can get you through the seasons.
A/C Service – HVAC System Repair
Air conditioning and HVAC units don't last forever, so over time, you may need to fix a few of the components inside. If your AC or HVAC unit has broken down or isn't working to its full capability anymore, then get in contact with us, and we'll send out one of our experienced air conditioner repair technicians. If your air conditioner breaks down in the middle of summer, the heat in your home can become unbearable, and there is the potential risk of heat stroke. Call out one of our technicians and they will perform an A/C repair so you can live comfortably for the rest of the summer.
A cold house can also be unbearable, so the same goes for your HVAC unit if it ain't working. One of our technicians can carry out any HVAC repair so you and your family can stay warm during the winter. Our team is experienced and skilled with all makes and models of AC and HVAC units, so no air conditioning repair job is too big for them. They will be able to diagnose the problem quickly, explain any information you may want to know and then they will get the job done efficiently. Our HVAC contractors know exactly what to look out for when it comes to repairs, whether it's a simple dead battery or a refrigerant leak, our competent technicians will have your unit back up and running in no time.
A/C Repair You Can Depend On
We provide Katy, TX with the highest standard of Air Conditioner Repair & HVAC Service. Our customers always come first, so we want to fully ensure that when we provide a service, you cannot fault it. If you would like any additional information, don't hesitate to get in contact with us, by email or phone today. Our great team is always happy to help, and one of our professional technicians will be on hand in no time. When you hire us, you can be confident in knowing that all of our contractors are qualified, experienced, and skillful in their field. We are a fast, affordable and reliable company who look forward to working with you. Professionalism, safety, and reliability are the main aspects of our service, and there is a range of areas that our Air Conditioning Technicians specialize in. We can install New A/C Systems and undertake maintenance ; no Air Conditioning job is too big or too small, from a minor repair to completely redoing your entire System . As a company we have been fulfilling your Comfort needs across Katy Texas for decades, providing comprehensive and fast service to the highest standard of safety. Our experience and continued development mean that you will be provided with an A/C Technician , fully competent in using the latest equipment and techniques in your home. Attempting to deal with faulty wiring or electrical issues of your Air Conditioning System in your home can be extremely dangerous if you do not have the correct training and knowledge. If you notice a problem with your electrical system or require electrical improvements to be made in your unite, the best thing to do is to call a certified electrician, from My Local Electrical. We can offer you a range of not only Air Conditioning, but also electrical services, carefully carried out using the expertise of our Technicians. Our services are highly regarded in the local area and recommended by clients we have worked for over a number of years. We can answer any of your Home Comfort Questions and offer you a quote on any work that your property may need, arranging a time to begin work that is convenient for you. If you require any Home Comfort Air Conditioning services, do not hesitate to contact us today!
All of our trucks are fully equipped so we can immediately handle all repair issues – all makes and models!