Air Conditioning Repair: How to make sure you are calling the right Expert
Having an air conditioner is common today as it has become a life necessity too. Living in a house without an air conditioner can be a pain as the extreme heat in the summers is bound to get to you. The humidity and hot temperatures during the summers are not only a barrier to your comfort but also have an adverse effect on your furniture and other wooden structures in your house. The constant high temperatures in the summers can cause them to expand due to which they will start to look out of shape and thus add more financial burden on your home maintenance budget.
Hence it is wise that you have an air conditioner up and running before that start of the summer season to ensure that you are well-prepared to take on the heat. It is necessary to get your broken old air conditioner fixed in order to keep temperatures cool and comfortable during the summer. In this article, we guide you through some simple steps through which you can assess whether the AC repair service is an expert in the field or not.
Ask for Certifications
All good air conditioner repair experts are certified and have appropriate training in the skills required to be an air conditioning repairman. You can ask whether the repairman holds the required certifications for the job, for example, look whether they are N.A.T.E certified or not. If you find that they are certified by respective authorities, then this is a definite positive sign.
Check for Licensing and Registration
You don't want to sound like a police officer but try to get to know whether the air conditioner repairman is registered in your state. You should look for licensing and insurance details as well because these documentations are important to your final decision. Bear in mind, an expert in the art of air conditioner repair will surely have acquired these documents.
You don't want a stranger showing up at your doorstep
Ask the repair service regarding their employees. Get to know if they have been pre-screened before being hired on the job because, at the end of it all, you are trusting the employee to come to your home and fix your air conditioner which can, in turn, be a risk if the individual is dishonest in his work.
Make sure the Repair guy has the experience
Ask him about the different brands of air conditioners that he has worked on. If he has not worked on your brand of air conditioner, then it is advised you keep him away from it and only allow him to handle it if he ensures that his services are covered by a warranty.
In conclusion, we feel if you find satisfactory answers to above four steps then the chances are that you will not be disappointed and that the air conditioning repair service you have contacted are genuine experts in the field.
No cool air blowing
Air Conditioning | AC Troubleshooting
The most common problem arising with air conditioning units in Katy is that the air conditioner is not blowing cold air. That's the main thing we need an a/c for right? There are quite a few places to look for this problem. Half the problems could be with the outside unit and the other half could be with the unit inside.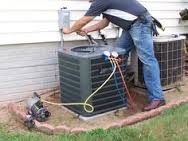 Issues that occur from inside the house:
The biggest problem is usually a clogged filter. Yep, it's that simple! Most people don't change their filter often enough, they neglect changing their air conditioning filter and it ends up clogging. When the filter gets clogged, the condenser on the inside part of the furnace can't breath and the condenser freezes up. Change your filter once a month and if you visually see ice, turn the unit off for a few hours to allow the ice that has accumulated to thaw.
The main function of an air conditioning unit is to take out the warm air that is inside the home. When the a/c unit takes the warm air out, it replaces it with the cold air that sifted through the freon filled condenser.
2. Another issue is that the inside condenser fins could be clogged with the debris from the dirty air filter. You can buy a special fin brush to clean off the debris.
3. Low freon pressure could also be the problem. The ideal pressure reading is around 65-70 psi, you will need freon gauges to get a reading from the high side (the larger of the two freon lines). Freon can slowly escape from the outside unit over time. That is why the unit must be serviced occasionally. A set of pressure gauges can be bought if you want to check the psi yourself, but you will not be able to add freon, you need an EPA license to work with freon. If you do need freon, call an air conditioning contractor for a service call.
4. When the thermostat is turned down low and the unit inside is not coming on at all it could be caused by the condenser fan motor. Wire connections could be burning up or may have been loosened by vibration. When this happens you need to call an air conditioning expert for repair.
Problems that occur outside the house:
First check to see that the outside unit is turned on!
1. The outside condenser fan could be burnt out. An air conditioning technician must service the outside unit for safety purposes. If the inside unit is running and the outside is not then the outside condenser will heat up and shut down until it has cooled off. This can also cause the seals inside the condenser to warp or even melt. First turn off the power to the unit. Next, the top part of the air conditioning housing needs to come off with an ordinary screwdriver. The fan is attached to the top lid and can also be easily unscrewed. Disconnect the corresponding wires and label them to allow with easy re-installation. After the wires are connected back, turn the power back on and attach everything the same way it came off. It's one of the easier tasks to handle.
2. The contactor may also be malfunctioning. You can tell this by a buzzing noise (usually loud). To replace this part you must take off the panel located on the backside of the unit. The contactor will look like a box with piston-like features. Again, you will be able to locate it easily by the sound it's making. Next, turn the power off and check for electricity flow with an Ohm-meter. When you start taking the contactor off, you can either unscrew the mounting brackets first or disconnect the wires. Just make sure you label the wires first so you know which wires connects to each lead. Once the new contactor is mounted you can connect the wires and replace the panel. Another job well done.
3. The outside unit may not be working and not getting electricity. to check this out look at the breakers inside the house and also the breaker box just above the unit outside. In some cases, the connectors to the outside breaker may have melted together. If this is the case call an conditioning repair specialist.
We hope you were able to get some help from the above guide. If not call one of our recommended air conditioning repair specialists to get your a/c unit back cooling your home. Call Today:
Are you noticing that you are getting too big of a temperature swing in your rooms during the summer when the air conditioner is running? What's going on with your air conditioner
How to Avoid HVAC Emergency Repairs
You rely on your HVAC system for all of your heating, and air conditioning needs throughout the year, however, without regular maintenance, your unit risks breaking down and will likely require more repairs. There are several different AC and HVAC problems that could lead to emergency air conditioning repairs. Luckily, many of these issues can be avoided with the correct upkeep, performed both by professional technicians and by you at home.
Debris and Clogs
A major cause of emergency repairs is a blocked or clogged HVAC unit. This is a problem that can be easily fixed by monitoring your system and regularly clearing away any unwanted debris.
If your HVAC system is located outside, it can become covered with debris from nearby trees or blocked by a buildup of dirt, dust, and mud. Make sure you clean out your unit every few weeks, removing any dirt and debris that may be impacting the filters and the efficiency of your system.
Replace your filters whenever you start to notice dirt forming around them, as the filter is responsible for keeping pollutants away from the engine of your HVAC system. Make it a habit to check the filters of your heating and cooling units at least once a month and change them once a year at minimum to keep them clean and clear of debris.
Leaks and Ducts
Small leaks that occur around the air ducts of your HVAC system can become major problems, eventually increasing and causing a lot of damage. A minor leak on the intake or exhaust side of the ducts can reduce the efficiency of your unit, allowing air to escape rather than heating or cooling your home.
Sealing these leaks as soon as you notice them and before they increase in size will help to enhance the efficiency of your HVAC system, saving you money in the long term. Repairing these leaks quickly will also prevent them from developing further, which could result in damage to your home and furnishings.
Overheating
Your HVAC system can easily overheat if it is in continuous use, which can cause some of the fuses to blow. This will prevent your unit from working properly, as the heat from the motors and compressors cause them to shut down. Smaller fuses can help protect parts of your system from overheating.
If you experience this problem, it is recommended that you call a San Antonio air conditioning technician who will be able to evaluate the circuits of your HVAC unit and repair them to prevent future overheating issues. An HVAC specialist will fix the fuses before this becomes a more serious, long-term problem.
Burnt Out Capacitors
The capacitors in your HVAC unit spin around at a particular speed to keep the motors running smoothly, meaning if these burn out, your system will be unable to start properly and will run inefficiently. It is advisable that you or your HVAC technician checks these every few months, as after a while they will need to be replaced.
The best way to prevent any emergency repairs related to failing or burnt out capacitors is frequent maintenance. If your system has trouble starting or does not run as usual, this is a sign that you need to call your HVAC contractor.
Signs to Look Out For
Most HVAC problems can be efficiently repaired if you catch them early, preventing them from turning into emergency issues. There are some signs to watch out for that can indicate some of the problems listed and are suggestive of a problem that needs to be evaluated.
For example, if your air conditioning is on, but the air is warm, or your heating is on, but the air is cold – this is a sign you should call an HVAC contractor. Unequal heating or cooling throughout your home is another indication your system needs to be inspected, as well as low airflow, or if the temperature in your home does not match that of your thermostat.
Maintenance with My Local HVAC Heating and Air Conditioning
The most common problems that occur with HVAC systems can often be repaired with regular maintenance. If you frequently check your units, you will be able to identify signs that suggest there is an issue that needs to be addressed. This means you will be able to call All Star Heating and Air Conditioning straight away.
It is important that you bring in a skilled HVAC contractor when you notice a problem. However, it is also necessary for a heating and air conditioning specialist to evaluate your system on a regular basis, to prevent any issues from becoming expensive, emergency repairs. Make sure an experienced HVAC expert comes to your home to carry out maintenance work around twice every year.
My Local Heating and Air Conditioning offer regular maintenance and emergency HVAC services, 24 hours a day, 7 days a week, no matter what your heating and cooling needs. We offer guaranteed repairs and can service all brands and models of air conditioning units, in order to provide a high quality of expert service, saving you time and money. If you are in need of emergency AC repair, our contractors will be happy to come out to your home as soon as possible, at a time convenient for you, with a prompt, live customer service.
We offer a free service call with repairs, ensuring you do not pay more than is necessary for a comfortable temperature in your home. We offer up-front explanations and pricing, with no overtime or after hours fees for any maintenance or repairs we carry out for you. If you use services from All Star Heating and Air Conditioning, you will receive your first pound of freon free with repairs.
Our knowledgeable contractors will be able to identify any issues and fix these safely and reliably. We service all brands of air conditioners, with guaranteed repairs. All of the work we carry out, as well as our pricing system, will be explained to you up front, so you understand exactly what is going on in your home and how to maintain your system.
For my friends in Canada if you need
furnace cleaning
please visit my friends at Advanpro